CACTUS LAND - AZ BDR
5 days of riding in the most remote places of Arizona
$
2,890
/

5 days & 6 nights
Two options, two prices:
On your bike : $2,890
On a rental T7 : $3,890
OPTION 6 DAYS (return to Phoenix via dirt roads instead of highway: contact us)

Lodging, food and gas included

4 riders minimum, 6 riders maximum

Loop starts and ends in Phoenix, AZ

1,000 miles of top quality ride

Gravel / Rocks / Pavement

Pre-tour package with paper maps and souvenirs

Support van to carry your bag for maximum comfort and minimum stress + Support rider
Difficulty

50%

50%

Off-road

70%

70%
WHAT'S INCLUDED?
TENERE 700 rental (optional)
GPS Trail Tech Voyager Pro (with rental)
ZOLEO satellite device (with rental)
GAS
LODGING (6 nights)
DINNERS (including Welcome dinner on first night)
SNACKS
TRANSPORT of BAGGAGES
SUPPORT RIDER
WHAT'S NOT INCLUDED?
BEVERAGES in restaurants

INSURANCE

$1,500 RETAINER for renting the Tenere 700
WARNINGS
This is a self GPS-guided ride. The provided GPS routes are not mandatory and you're free to take your own decisions
You are not encouraged to ride alone. People will ride in small groups but ultimately, each rider is responsible for their own riding.
If you're coming from abroad, plan to arrive at least one day before the start of the ride to get used to the time difference.

Discover some of the most remote places of Arizona, on dirt roads surronded by giant cactus. No need to ship your bike to ride the AZ BDR, you can rent a motorcycle on this guided tour and enjoy the scenery while riding a Yamaha Tenere 700! From the desert near the border to Grand Canyon in the Northern part of the state, this is a scenic off-road adventure that will bring you back in the western movies of your childhood!
The route starts from Phoenix, AZ, and then goes down to the AZ-Mexico border. We then go up to Grand Canyon NP using only remote dirt roads and backcountry roads. It will be a dry and warm ride, with cactus, mountains, wild life, mexican food… The closest experience of being in a Western movie that you'll ever get!

IS IT A TRIP FOR ME?
This trip is designed for intermediate riders looking for a fun ride in a remote landscape. While most of the ride is done on double-tracks and gravel roads, there will be a few technical sections here and there with deep sand and rolling rocks. It will never be extremely hard but it's a reminder that the trip is not for beginners. There is pavement option every day though if things get too rough.
Weather should be great at this time of year, but you should be prepared for cold temperatures in the morning and evening. Remember that we don't control the climate!
Last, but not least, we will be riding the Tenere in very remote areas where search and rescue might need hours to reach us. Safety will be our top priority over performance.
Overall, the challenge is perfectly doable for any rider in good physical condition and willing to put the effort to expand their horizons!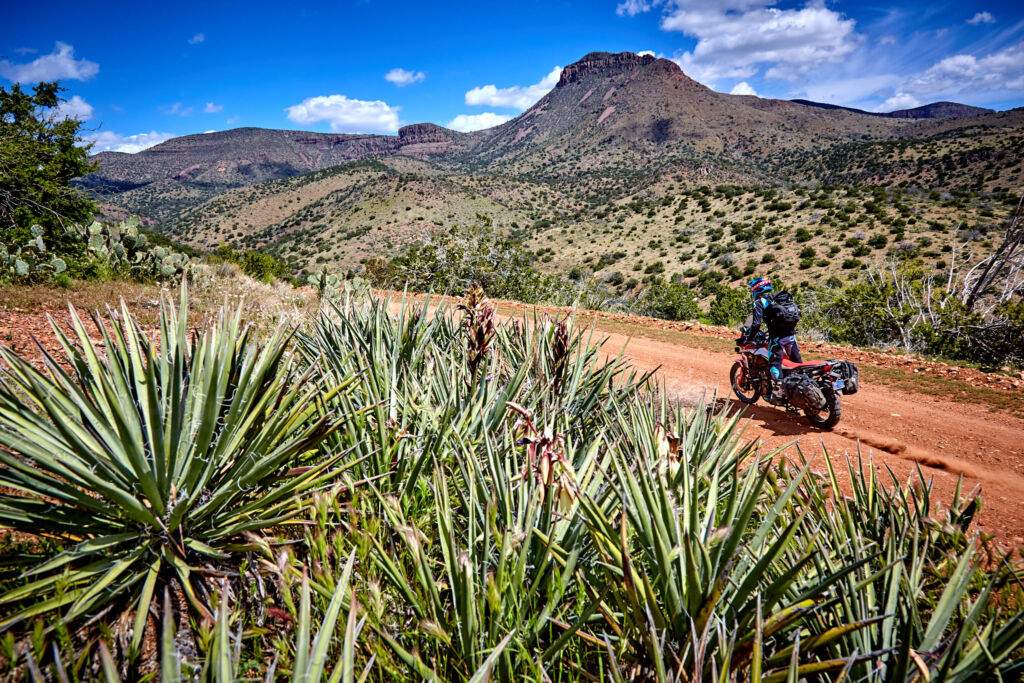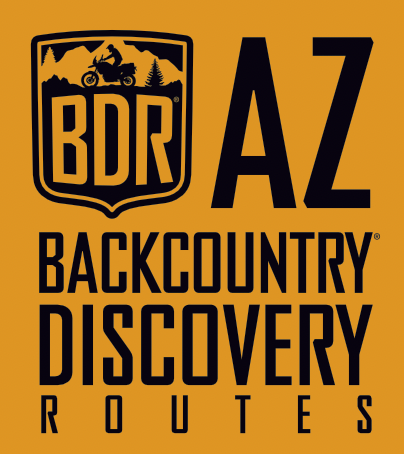 Starts/ends in Tucson, AZ
Map of the Trip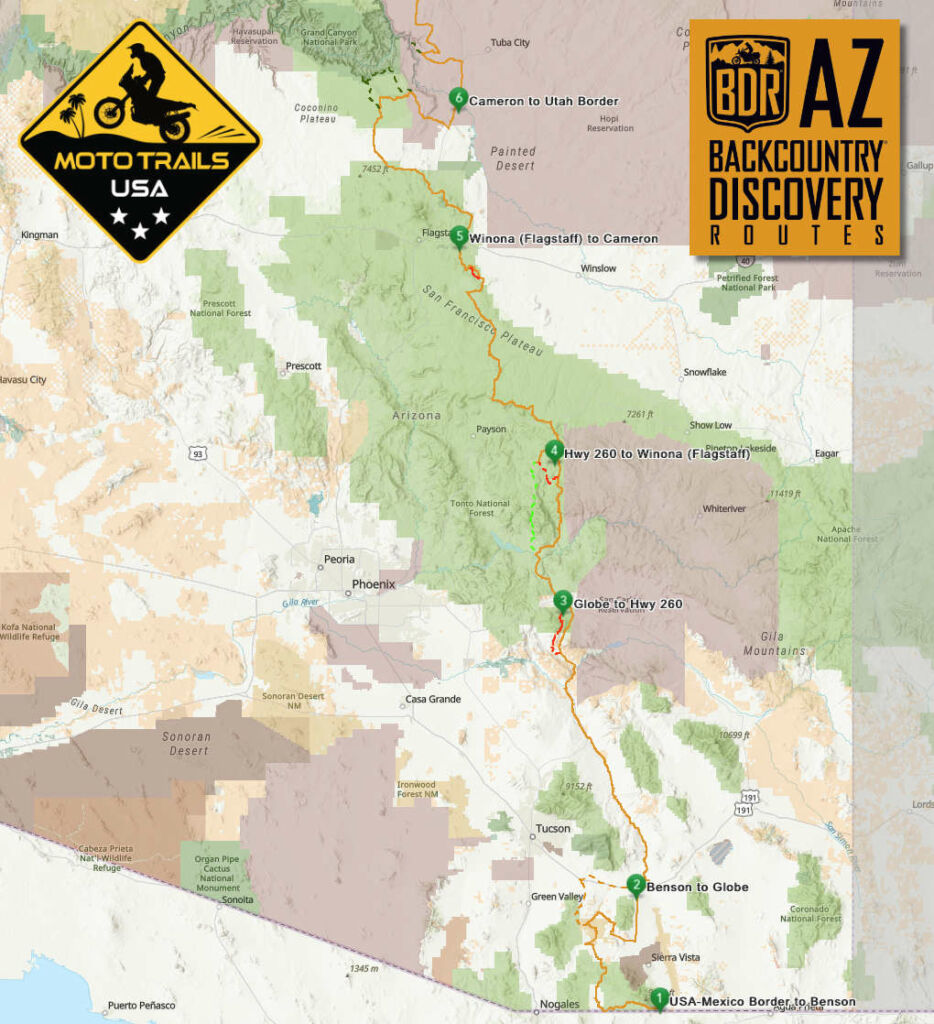 DAY 1 - Tucson to US border to Benson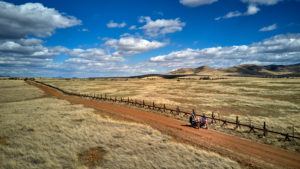 We'll start our day early to leave Tucson by the highway. There will be a good stretch of pavement up to the start of the BDR, near the border of Mexico. From the Coronado National Monument we will reach the border and then follow it on a beautiful dirt road in the grasslands, up to Benson. The scenery is really stunning on this first day and the dirt is usually really good…
Lodging: Benson
Distance: 95 miles on highway and then 114 miles on dirt
DAY 2 - Benson to Globe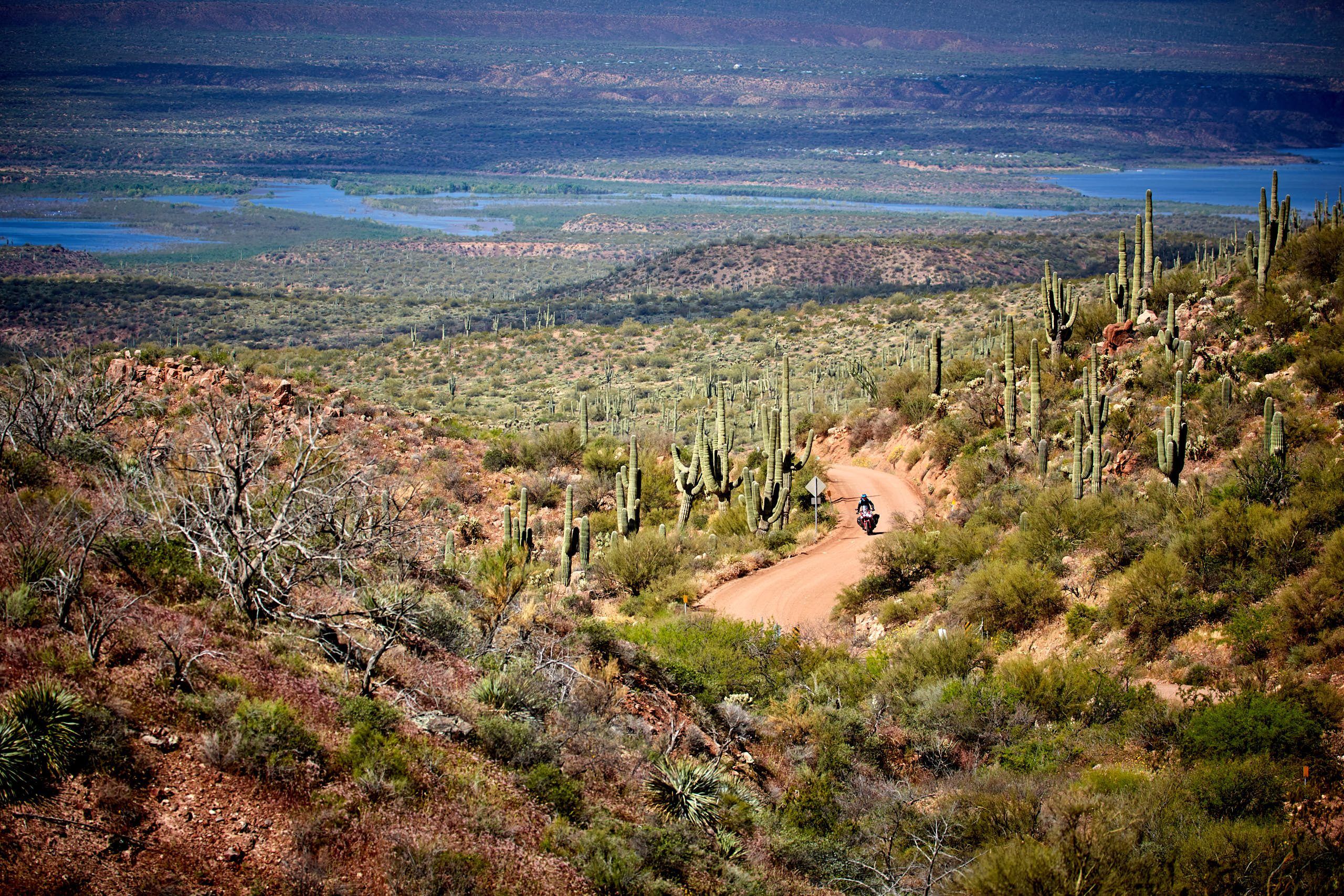 After Benson, we ride on some more dusty gravel roads, with huge cactus on the side. We might get some sand, but nothing too hard – and we can get some fresh drinks in Mammoth anyways. Going into the forest and the mountain at Pionner Pass, we get some extarordinary vista points before reachign Globe.
Lodging: Globe
Distance: 150 miles
DAY 3 - Globe to Flagstaff
From Globe to Flagstaff, there are two distinct options: pavement or dirt. Both are good with spectacular views of cactus. It's a long day, but a good one, with an option for fresh drinks at Young. Flagstaff is a vibrant college town where it's easy to find good restaurants.
Lodging: Flagstaff
Distance: 211 miles
DAY 4 - Flagstaff to Cameron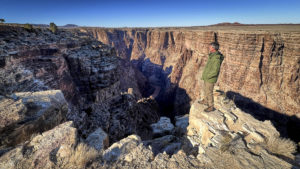 We're now heading to Grand Canyon, with here again some good riding but most importantly some access to very remote outlooks of the Grand Canyon.
Lodging: Cameron
Distance: 131 miles
DAY 5 - Back to Tucson via Sedona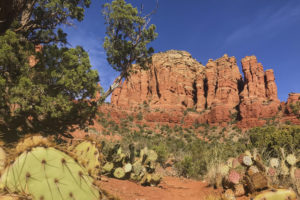 It's now time to hit the road again, with a nice stop in the small town of Sedona, surrounded by amazing red rocks formations. It's a bit touristy, but also a great place for ice cream and last minute souvenirs shopping before going back to Phoenix.
Lodging: Tucson
Distance: 255 miles
DAY 6 (OPTION)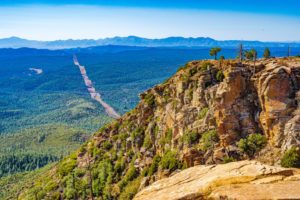 On the 5th day, we start going down to Tucson, but staying as much as possible on dirt. From Cameron, we will take gravel roads down to Payson, AZ. The next morning, there's another stretch of dirt going down to Globe, AZ. Last, we take the pavement for the last leg to Tucson. Overall, this is a more tiring option but also a more rewarding one!
Lodging: Payson, AZ
Distance: 190 miles
Lodging: Tucson, AZ
Distance: 210 miles
IT'S A SELF-GUIDED TRIP… YOU'RE ON YOUR OWN WITH OUR LOGISTIC TO HELP YOU
We provide all the tools:
⊕ Fully fitted Tenere 700 with bags and GPS
⊕ Pickup truck to carry your luggage so you can ride light
⊕ Support riders who know the trails, carry tools and have satellite communication.
However, you're in charge of your adventure and you will be responsible for managing your effort and riding at a safe pace.
Dirt or pavement ? Everyday, a morning briefing will let you know all about the day's ride, after which you can decide between riding on the dirt or opting for the pavement option. Again, you're on your own, and you take the decisions. 
Riding in group: Riding solo is dangerous so we encourage you to ride in group. Nonetheless, everybody should ride at its own pace and have time to  stop to take pictures…
Sharing memories: After reaching the hotel at the end of the afternoon, the riders will have dinner in a restaurant and plenty of time to share their adventures of the day!