SPIRIT of DAKAR
California BDR
Nevada BDR
SPIRIT of DAKAR
5 days of riding in and around Death Valley
$
2,750
/

5 days & 6 nights
Two options, two prices:
On your bike : $2,750 
On a rental T7 : $3,950 

Lodging, welcome dinner and gas (with rental) included

4 riders minimum, 8 riders maximum

Loop starts and ends in Las Vegas, NV

Sunday night to Friday night

1,000 miles of Dakar-quality desert ride

Gravel / Rocks / Sand

Pre-tour package with paper maps and souvenirs

Support van to carry your bag for maximum comfort and minimum stress

OPTIONAL: 1-3 days of fun in Las Vegas, including helicopter tours over the Grand Canyon, night shows, live concerts, track experience with sport cars… Upon request.
DATES
2024
NOVEMBER
2025
FEBRUARY
MARCH

Difficulty

65%

65%

Off-road

70%

70%
WHAT'S INCLUDED?
TENERE 700 rental (optional)
GPS Trail Tech Voyager Pro (with rental)
ZOLEO satellite device (with rental)
GAS (with rental)
LODGING (6 nights)
Welcome dinner on Sunday night
SNACKS
TRANSPORT of BAGGAGES
WHAT'S NOT INCLUDED?
BEVERAGES in restaurants and DINNERS other than Welcome Dinner

INSURANCE

$1,500 RETAINER for renting the Tenere 700

Air travel to and from Las Vegas

Anything not listed as included.
This winter tour gives an opportunity to discover the most amazing spots of Death Valley and of the California and Nevada deserts when the temperatures are not too hot. This is a true adventure, a technical ride rewarded by spectacular landscapes
The Spirit of Dakar, named after the famous Rally held in Africa, starts from Las Vegas, and goes through Death Valley National Park in California. After Titus Canyon, the Ubehebe crater and the racetrack, we then follow the Alabama Hills and keep going all the way up to Tonopah, Nevada. We come back through the Nevada desert, visit a car forest, ride trough the mountains to reach the amazing ghost town of Gold Point, and even get the opportunity to ride some sand dunes.
The route is based on portions of the CA BDR and of the NV BDR and slightly modified to do a full loop.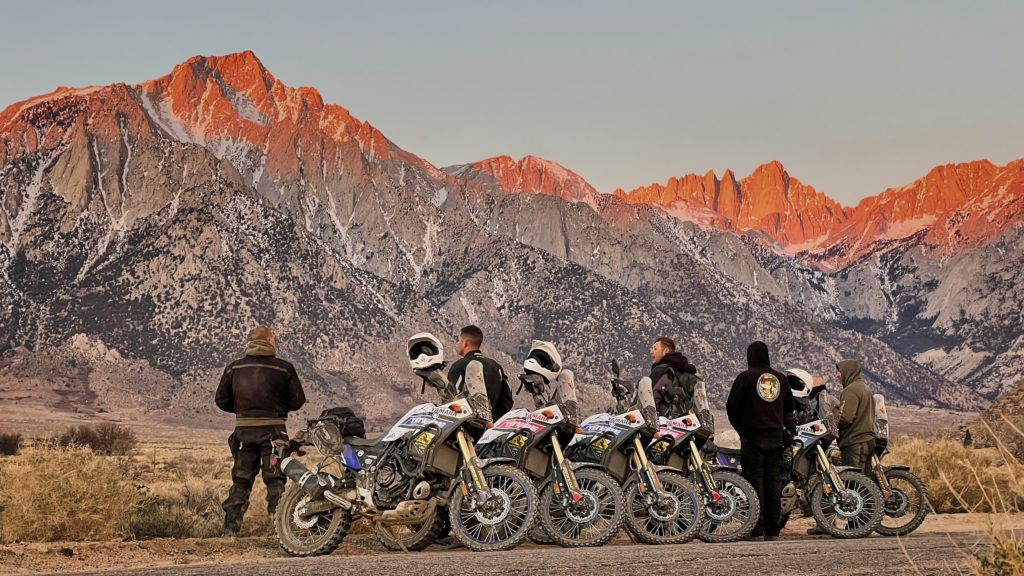 IS IT A TRIP FOR ME?
This winter trip is designed for intermediate to experienced riders looking for a fun ride in a Dakar Rally-like desert. While most of the ride is done on double-tracks and gravel roads, there will be a few technical sections here and there such as deep sand and rolling rocks. It will never be extremely hard but it's a reminder that the trip is not for beginners.
Weather should be great at this time of year, but you should be prepared for cold temperatures in the morning and evening. Remember that we don't control the climate!
Last, but not least, we will be riding the Tenere in very remote areas where search and rescue might need hours to reach us. Safety will be our top priority over performance.
Overall, the challenge is perfectly doable for any rider in good physical condition and willing to put the effort to expand their horizons!
WARNINGS
This is a self GPS-guided ride. The provided GPS routes are not mandatory and you're free to take your own decisions
You are not encouraged to ride alone. People will ride in small groups but ultimately, each rider is responsible for their own riding.
If you're coming from abroad, plan to arrive at least one day before the start of the ride to get used to the time difference.
Dinners & Snacks Included
Starts/ends in Las Vegas, NV
Map of the Trip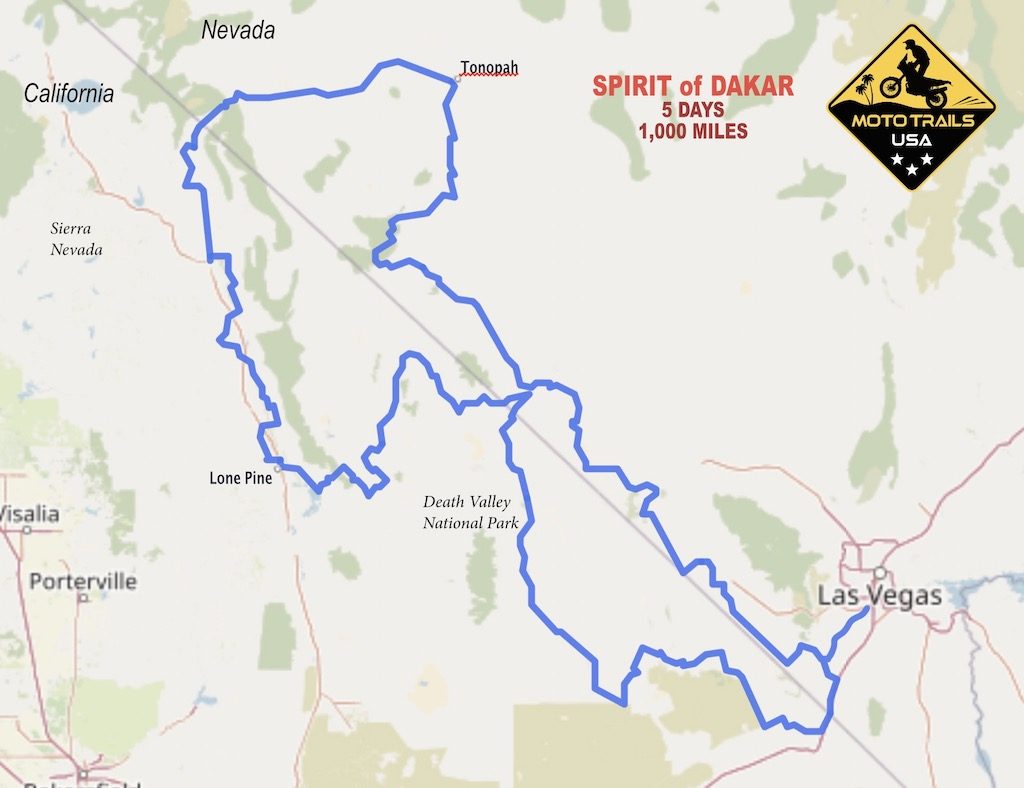 DAY 1 - Las Vegas to Furnace Creek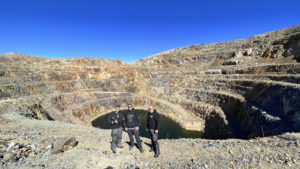 After meeting for dinner on Sunday night, we'll start our day early on Monday morning to leave Las Vegas on rocky trails up to the Coliseum mine. 
This is the most difficult part of the trip, so we take it easy…
We'll take a rest and a date milkshake at China Ranch. Then, some sandy sections will make you sweat at the entrance of Death Valley National Park. After Badwater Basin, we stop for the night at Furnace Creek, in the heart of the Death Valley.
Lodging: Furnace Creek
Distance: 250 miles
DAY 2 - Furnace Creek to Lone Pine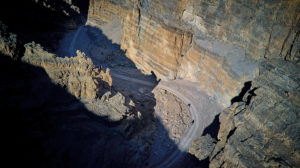 After a good breakfast in Furnace Creek, the day begins with the impressive exploration of Titus Canyon. We then ride up to the Race Track, where rocks are leaving surprising tracks on the sand. Later on, the trail leads us through the mountains before reaching the lovely town of Lone Pine.
Lodging: Trails Motel, Lone Pine
Distance: 177 miles
DAY 3 - Lone Pine to Tonopah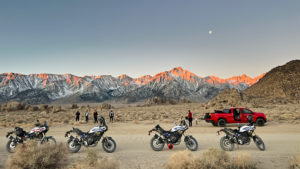 We start super early to enjoy the colorful sunrise on the Alabama Hills. The ride continues to the historical site of Manzanar Camp before reaching the Reward mine: there, you will ride your Tenere inside the dark tunnel! We then enjoy great trails in the valley, with an optional a lunch break in Big Pine. The day ends with a stretch of pavement up to Tonopah, Nevada.
Lodging: Belvada Hotel, Tonopah
Distance: 211 miles
DAY 4 - Tonopah to Beatty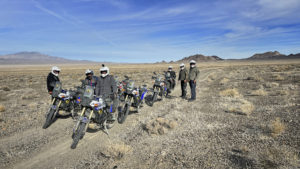 The morning starts with the visit of the car cemetery of Goldfield, before heading toward the ghost town of Gold Point through the remote mountains of the Nevada desert, often covered in snow. After a cold drink in the ghost town saloon, we'll ride to Beatty, NV, following a rough double track in the valley.
Lodging: Beatty
Distance: 185 miles
DAY 5 - Beatty to Las Vegas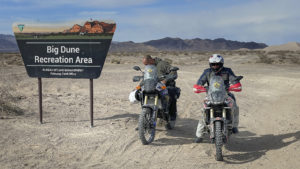 For the last day, we offer two technical challenges before and after Pahrump: The Big Dune OHV park will let you test your skills in the sand, while the amazing double track after the town will give you a feel of what it looks like to ride the Baja 1000 race. We then reach Las Vegas where we have our last dinner together. That's also when you receive your Finisher gift !
Lodging: Las Vegas
Distance: 196 miles
IT'S A SELF-GUIDED TRIP… YOU'RE ON YOUR OWN WITH OUR LOGISTIC TO HELP YOU
We provide all the tools:
⊕ Fully fitted Tenere 700 with bags and GPS
⊕ Pickup truck to carry your luggage so you can ride light
⊕ Support riders who know the trails, carry tools and have satellite communication.
However, you're in charge of your adventure and you will be responsible for managing your effort and riding at a safe pace.
Dirt or pavement ? Everyday, a morning briefing will let you know all about the day's ride, after which you can decide between riding on the dirt or opting for the pavement option. Again, you're on your own, and you take the decisions. 
Riding in group: Riding solo is dangerous so we encourage you to ride in group. Nonetheless, everybody should ride at its own pace and have time to  stop to take pictures…
Sharing memories: After reaching the hotel at the end of the afternoon, the riders will have dinner in a restaurant and plenty of time to share their adventures of the day!
Gallery Spirit of Dakar Tenere 700