CONTINENTAL DIVIDE TOUR
"The adventure of a lifetime!"
CONTINENTAL DIVIDE
13 days crossing the immensity of the USA
$
4,450
/

13 days & 14 nights
Two options, two prices:
On your bike: $4,450 ($3,450 + $1,000 deposit)
On a rental T7: $5,950 ($4,950 + $1,000 deposit)

Lodging and gas included

6 riders minimum, 8 riders maximum

13 days of riding

2,500 miles of breathtaking rides through a variety of landscapes

Starts from Silver City, NM (Northbound) or Kalispell, MT (Southbound)

Support van to carry your bag for maximum comfort and minimum stress

Transfer to the airports if needed

Pre-tour package with paper maps and souvenirs
Difficulty

40%

40%

Off-road

75%

75%
WHAT'S INCLUDED?
TENERE 700 rental

GPS Trail Tech Voyager Pro

GAS

LODGING (14 nights)

FIRST DINNER (Silver City)

LAST DINNER (Kalispell)

SNACKS

TRANSPORT of BAGGAGES

TRANSFER to the AIRPORTS (Tucson, Kalispell)
WHAT'S NOT INCLUDED?
MEALS in Restaurant (except first and last dinners)

INSURANCE

$1,500 RETAINER for renting the Tenere 700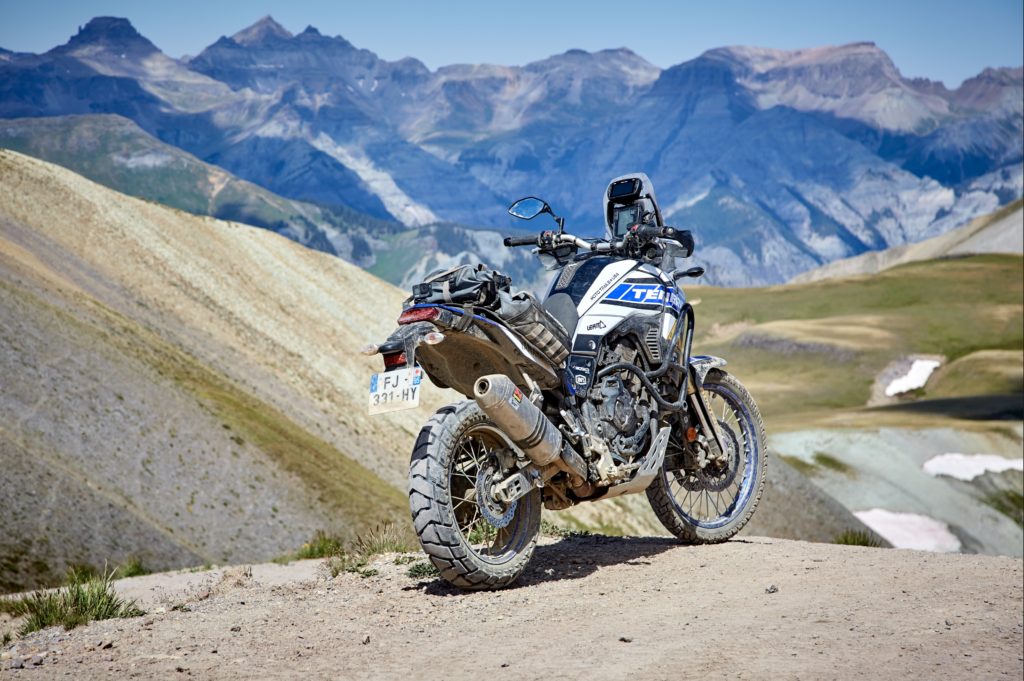 WHAT IS THE CONTINENTAL DIVIDE?
Following the geographical line upon which the water goes either toward the Atlantic Ocean or the Pacific Ocean, the Continental Divide ride goes through New Mexico, Colorado, Wyoming and Montana, covering around 2,500 miles of spectacular remote wilderness, from deserts to 12,000 ft high mountain passes.
Closely following the original route developped for bicyclists, the CDR stays far away from civilisation. During the day, you're more likely to encounter wildlife or cattle than to meet another human being. 
It's truly a unique ride, with incredible diversity of terrain and scenery, and an uncomparable sense of achievement for those who finish it. This is which is why we call it the king of the rides!
IS IT A TRIP FOR ME?
 This long trip is designed for riders seeking an authentic adventure in the most beautiful areas of the West. While most of the ride is done on double-tracks and gravel roads, there will be a few technical sections such as deep ruts or rolling rocks. It will never be extremely hard, but it's a reminder that the trip is not for beginners.
You'll ride at your own pace. Your bike comes with a fully loaded GPS, with optional pavement routes. With this device and the help of the support rider, you will  take your own decisions based on your physical condition, the forecast, the difficulties of the day…
Weather should be great at this time of year, but you must be prepared for everything like extreme heat, showers and even thunderstorms. Rain can make the trails impassable, so we always have a pavement option ready… Remember that we don't control the climate!
Last, but not least, we will be riding the Tenere 700 in very remote areas where search and rescue might need hours to reach us. Safety will be our top priority over performance.
Overall, the challenge is perfectly doable for any rider in good physical condition and willing to put the effort to experience what is truly the adventure of a lifetime!
Silver City (NM) to Kalispell (MT)
This road-book describes the trip from South to North.
For the North to South trip, just read it backward.
Map of the Trip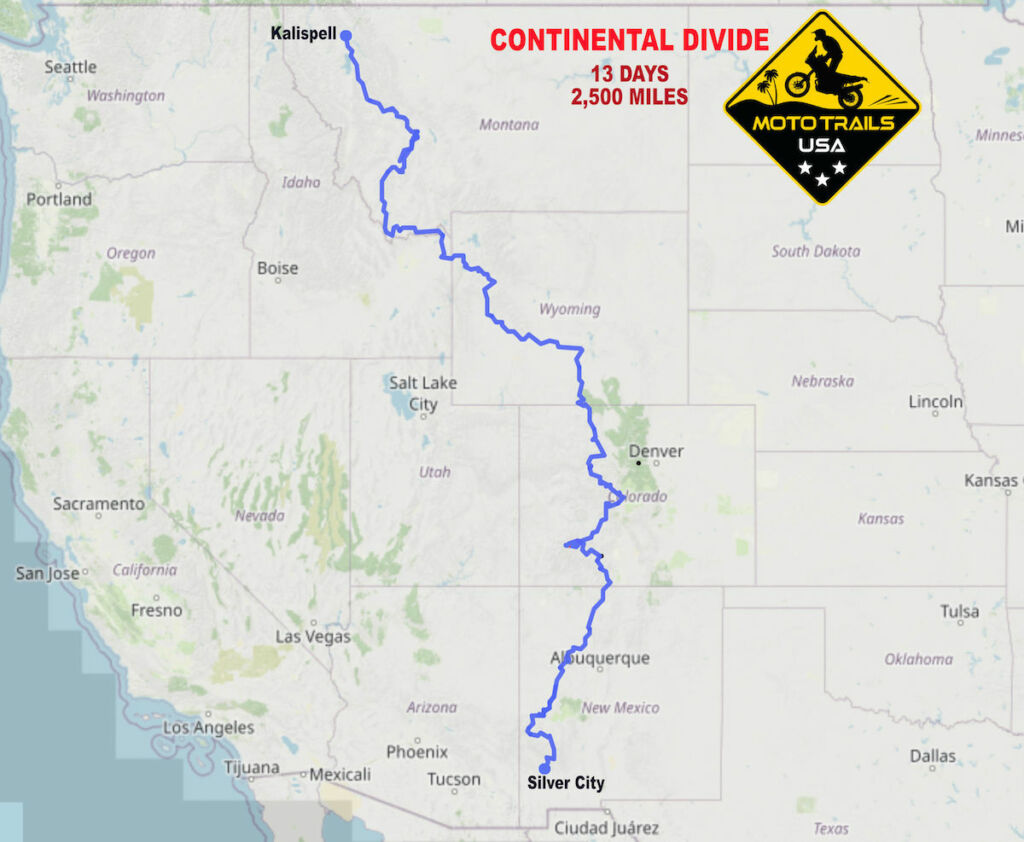 DAY 1 - Meeting in Silver City, NM)
For those who are coming by plane, we can pick you up at the Tucson International Airport in Arizona.
After the drive to Silver City, you meet your fellow riders and get to know everyone during a friendly dinner. After discovering your fully loaded Yamaha T700, there's a last safety breefing before a good night sleep in a comfortable hotel.
DAY 2, 3 and 4 - NEW MEXICO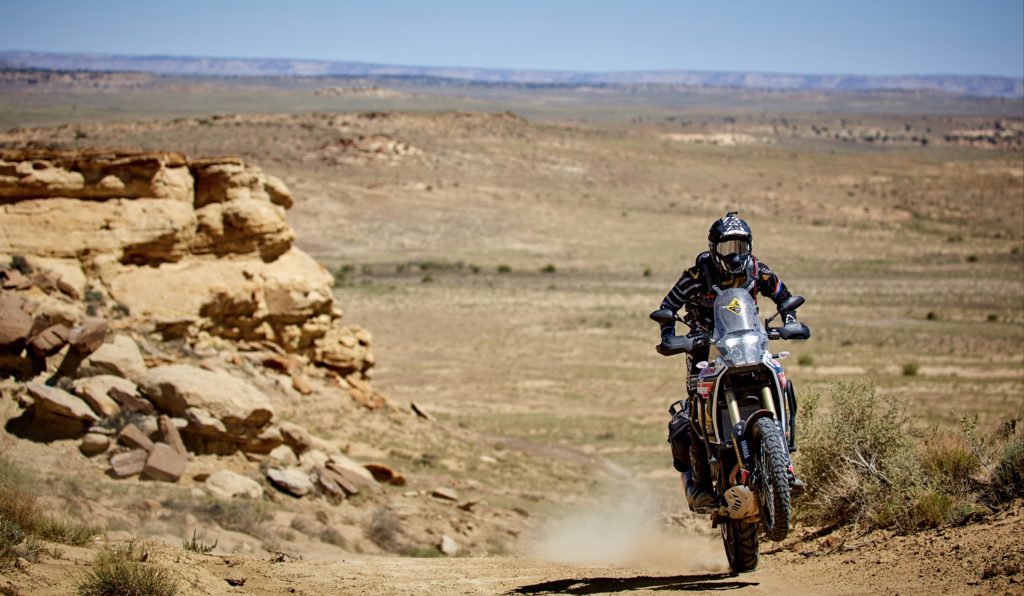 New Mexico is called the Land of Enchantment for a reason! You'll be amazed by the change of scenery during the first two days, as the track alternates between forests and vast plains, leading us to the small towns of Reserve and then Grants. On the third day, you get a taste of the Dakar Rally in the desert before Chama. But keep in mind that we're not racing and that you want to ride safe! In case of rain, we might skip some sections of dirt that are "impassable when wet" and stay on backcountry paved roads, which are just as colorful as their dirt counterparts.
Duration: 582 miles – 3 days
DAY 5, 6, 7, 8 - COLORADO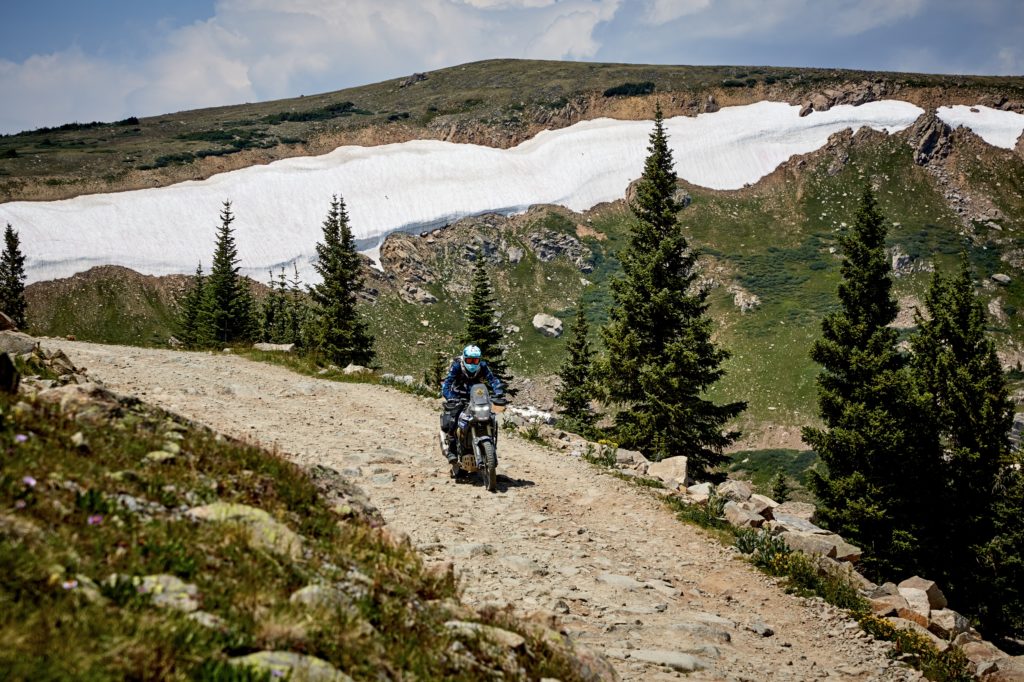 Colorado will bring the most technical riding of the trip, but also the most magnificent views!
It starts easy on the first day with a cool ride to Stunner Pass. The day ends at Lake City, where we will be staying for two days.
Indeed, on the next morning, we offer the option to discover the famous Alpine loop including Cinnamon Pass and Engineer Pass, both topping the 12,500 feet mark. This rocky 40-mile ride will let you forge great memories!
The next day to Buena Vista is easier, since Cottonwood Pass is now paved! Enjoy the calm before the storm, since the following stage is challenging, especially when climbing the rocky Hagerman Pass.
From Buena Vista to Eagle, you'll have mostly single and double tracks that will let you play with your agile Tenere like a small dual sport.
Duration: 547 miles – 4 days
DAY 9, 10, 11 - WYOMING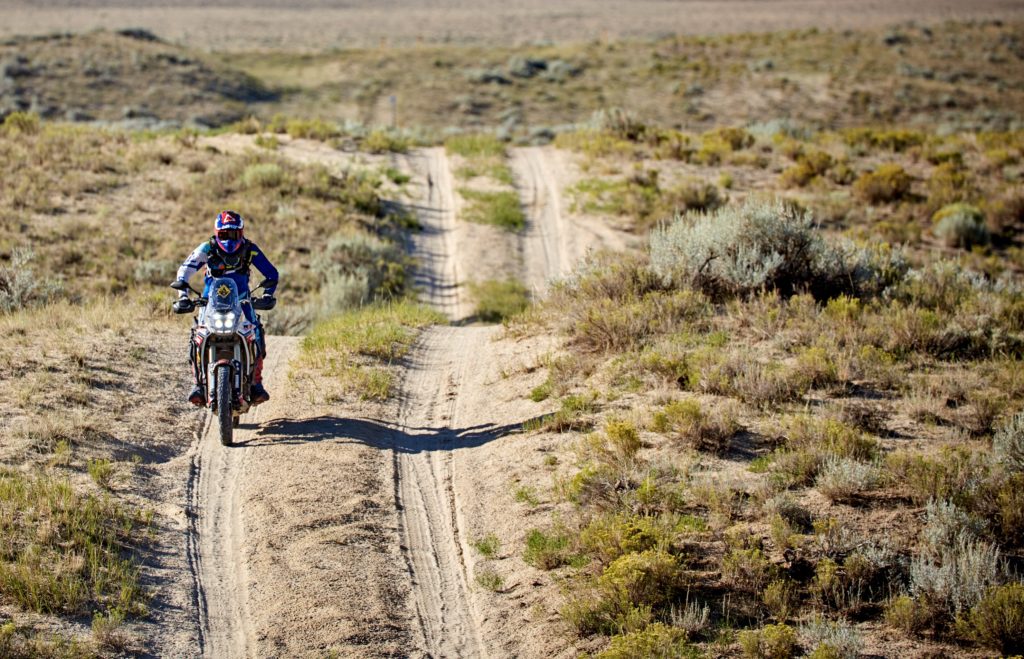 We will start with a easy but long stage, going from Eagle, CO to Rawlins, WY, with the opportunity to find a nice restaurant in Steamboat, CO, for lunch!
The next day, you'll enter the Wyoming desert, with amazing dirt and even a fun sandy double track! The wild pronghorns will run along your bikes, making you feel like you're in Africa.
From Pinedale, large gravel roads let you put a lot of miles before entering the scenic Grand Teton National Park and reaching Island Park…
Duration: 719 miles – 3 days
DAY 12, 13, 14 - MONTANA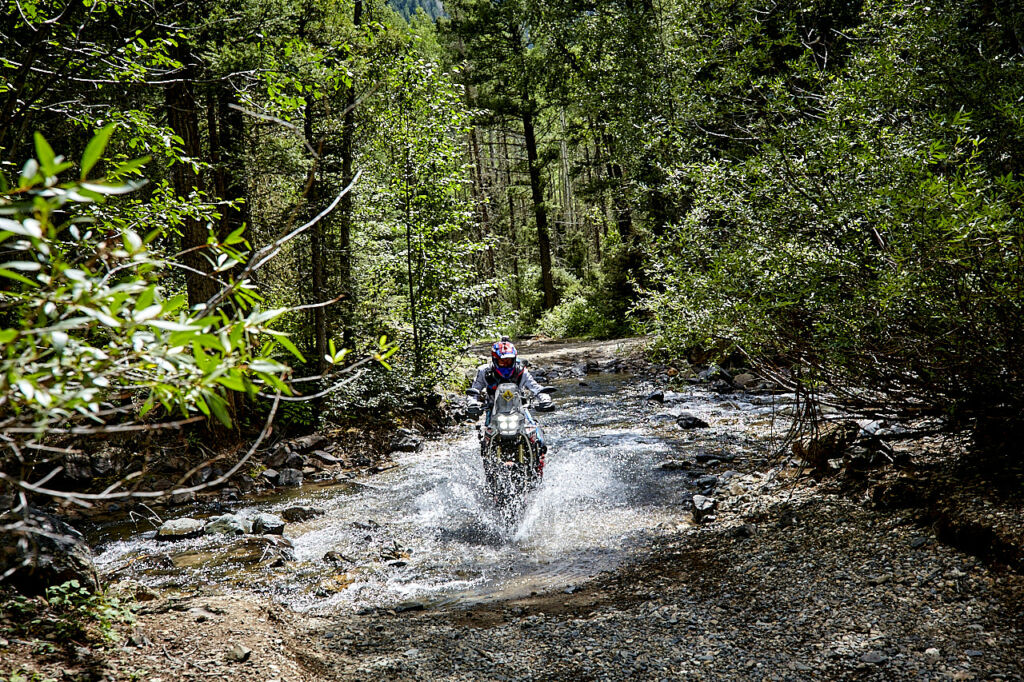 To Butte and then Seeley Lake, we'll progressively let behind the vast plains of Wyoming to enter the deep forests of Montana.
The ride then avoids Glacier NP and its tourists to bring you to Kalispell via winding gravel roads, a few miles from the Canadian border.
There, we take a room in a historic hotel in town, before enjoying a last dinner where you'll get your Finisher t-shirts. You've done it, crossing the whole USA border to border on a 2,500-mile ride!
Duration: 659 miles – 3 days
DAY 15 - Transfer to Kalispell airport
It's time to say good bye to everyone and head back home!
From Kalispell, you can either rent a car or be driven to the Glacier Park International Airport in Kalispell in time to catch your flight, full of unforgettable memories of the ride of a lifetime!
YOUR OWN ADVENTURE… WITH ALL THE SUPPORT YOU NEED
We provide all the tools:
⊕ Fully fitted Tenere 700 with bags and GPS
⊕ Van to carry your luggages so you can ride light
⊕ Support riders who know the trails, carry tools and have satellite communication.
However, you're in charge of your adventure and you will be responsible for managing your effort and riding at a safe pace.
Dirt or pavement ? Everyday, a morning briefing will let you know all about the day's ride, after which you can decide between riding on the dirt or opting the pavement option.
Riding in group: We're in the adventure together, but it doesn't mean we have to be together at all times. We have one support rider riding ahead of the group. Remember, everybody can ride at their own pace, stop to take pictures… We want you to feel like you're truly on vacation!
Accomodations in the small towns of these remote regions will often rely on family-owned motels and lodges…
It's one of the reasons why the Continental Divide ride is such an authentic adventure!
Gallery Continental Divide Tenere 700