IMPROVE YOUR SKILLS ON DIRT
AND PREPARE FOR YOUR NEXT ADVENTURE!
A REAL WORLD "ADV" TRAINING
Our goal is to teach you the proper techniques to make you a safer ADV rider, and to help you gain the necessary confidence to handle your next adventure in the wild…
After decades of riding/teaching in Europe and in the USA, we're ready to share our experience with you. It will be fun, and you'll learn a lot!
ADV TRAINING
Learn to ride safer and smarter
On your own bike
One price: $400/day (50% deposit requested upon booking)

LEVEL 1: The basics (half day)

LEVEL 2: Climbs, descents, rocks (half-day)

LEVEL 3: GPS navigation on a small one day trip (full day)
DATES
Pick a convenient date on the calendar and book your class!
LEVEL 1 and LEVEL 2 classes work together as they are a half-day each.
Level 3 is a separate class and a full day is needed.
Snacks and fresh beverages will be provided on site.
LEVEL 1: BASICS SKILLS TO AVOID CRASHES
In this half-day course, you'll learn how to be safe in low speed evolution. This is often the most challenging part of riding a big adventure bike and where people fall the most. It will help you in technical sections or when it's time to do a u-turn in the trails…
Balance at low speed
Proper use of body control, bike controls to do very slow evolutions
Techniques of U-Turns
Pick-up the bike from the ground
LEVEL 2: STEEP CLIMBS AND DESCENTS
In this second part of the day, we learn some more advanced techniques that might prove very useful in real world situations:
Steep climbs and descents
Recover from a stall in climb
U-Turn in a climb
At the end of the class, we usually go for a 1 hour ride where you can use everything you learned and see how much you improved!
LEVEL 3: GPS NAVIGATION AND TIPS FOR LONG RIDES
We will ride a portion of the CA BDR and learn how to ride confidently and safely in the sand, use a GPS, and improve our riding position dependign on terrain. This class is not difficult but will nontheless require a good physical condition.
[booking type=5 nummonths=1 form_type=standard']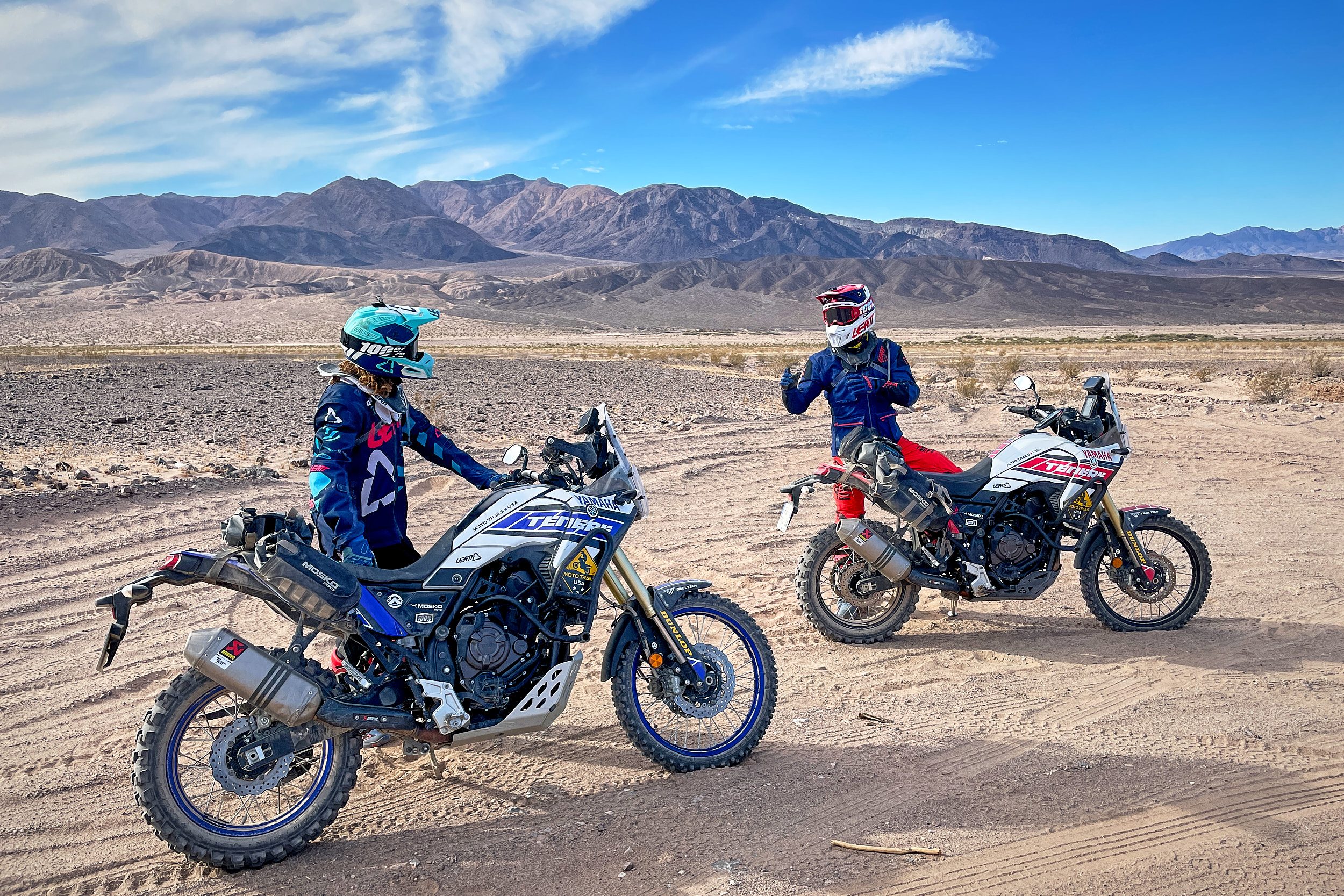 I had a great time and that bike is a real piece of machinery. I really appreciate your patience with me and all the knowledge and time you spent with me. I really took a lot of info in that day, and will apply it to all my riding in the future.
Frequently Asked Questions
What bike / equipment do I need?
You can come with your own bike, whatever model it is (dual sport, enduro, adventure bike).
Please bring your equipment: helmet, motorcycle boots, gloves are a minimum, and we recommend that you consider goggles, body armor, neck brace, knee braces… If you need to update your equipment, we give our customers access to Leatt products at great rates.
Do I need to take all the classes?
You only need to take the class you think you need, but LEVEL 1 and LEVEL 2 usually work together. 
Age and driver licence
There's no minimum or maximum age if you come with your own bike since LEVEL 1 and LEVEL 2 class are held on OHV areas.  A motorcycle endorsement on your valid driver licence is however mandatory for the LEVEL 3 since we will be on public dirt roads.
Insurance
If you don't already have a motorcycle insurance, now might be the time to contact your insurer 😉 We'll be in OHV areas for level 1 and 2, but you're always better safe than sorry…
Cancellation Policy
No cancellation fee if you cancel at least 15 days before the beginning of your rental period.
If the cancellation is between:
14 – 8 days before the class, you will pay 50% of the total price
7 days to 1 day before the class, you will pay 80% of the total price
If you cancel the day of the class or you're not coming for any reason, you won't get any refund.