RED rocks
7 days of riding in the majesty of Utah & Arizona
Two options, two prices:
On your own bike: $2,950 ($1,950+ $1,000 deposit)
On our Tenere 700: $4,250 ($3,250 +$1,000 deposit)

Lodging, food and gas included

4 riders minimum, 8 riders maximum

Loop starts and ends in Las Vegas, NV

1,200 miles of breathtaking views

Pre-tour package with paper maps and souvenirs is included

Support van to carry your bag for maximum comfort and minimum stress
Difficulty

40%

40%

Off-road

65%

65%
WHAT'S INCLUDED?
TENERE 700 rental (optional)
GPS Trail Tech Voyager Pro (optional)

GAS

LODGING (8 nights)

DINNERS (including Welcome dinner on Saturday night)

SNACKS

TRANSPORT of LUGGAGE
WHAT'S NOT INCLUDED?
BEVERAGES in restaurants

INSURANCE (we can provide one if needed)

$1,500 RETAINER for renting the Tenere 700
WARNINGS
This is a self GPS-guided ride. The provided GPS routes are not mandatory and you're free to take your own decisions
You are not encouraged to ride alone. People will ride in small groups but ultimately, each rider is responsible for is own riding.
Proof of vaccination for Covid-19 will be required before the begining of the ride
This 7-day trip offers the most diverse landscapes, making it a perfect "Instagram-ride". Utah is home to some of the most popular National Parks of the United States, and you will get to experience them via backcountry roads. After taking in the immensity of Grand Canyon, you will head towards the majestic landscapes of Capitol Reef National Park. For the end of the ride, Arizona will enchant you with some of its natural wonders, such as Monument Valley and the south rim of Grand Canyon, before heading back to Las Vegas.
IS IT A TRIP FOR ME?
This Spring / Fall trip is designed for intermediate riders looking for a fun ride in some of the most iconic areas of the West. While the trip is not intented for beginners, you'll find that most of the trails are easy, usually following large jeep trails and gravel roads. As for the paved sections, they are just as beautiful with very little traffic. However, you'll encounter some technical sections like double tracks with rolling rocks or mud. We don't control the climate, but we always try to propose a pavement alternative when trails are wet. 
Weather should be great at this time of year, but you should be prepared for a wide range of temperatures.
Last, but not least, we will be riding the Tenere 700 in very remote areas where search and rescue might need hours to reach us. Safety will be our top priority over performance.
Overall, the challenge is perfectly doable for any rider of moderte experience in good physical condition and willing to put in the effort to live a great adventure.
Starts/ends in Las Vegas, NV
Map of the Trip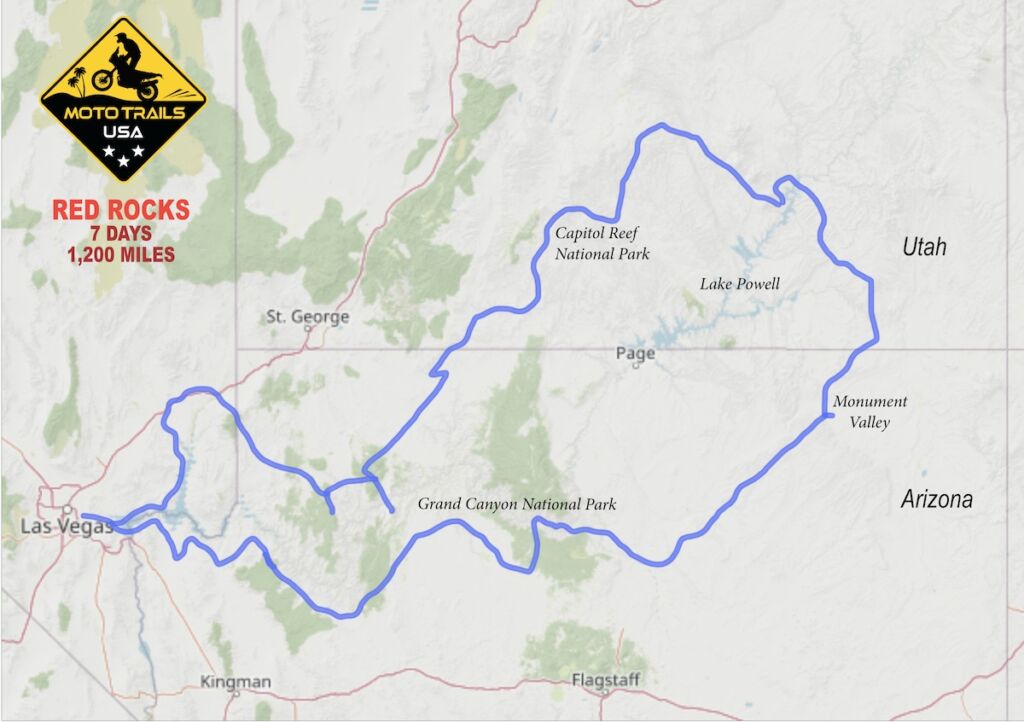 DAY 1 - Las Vegas to Grand Canyon West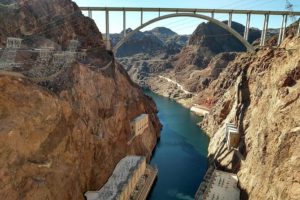 The first day is an easy warm up, with some pavement and nice dirt roads through the desert. We stop at Hoover Dam, before heading to the South rim of Grand Canyon NP.
Lodging: Western Ranch
Distance : 123 miles
DAY 2 - Grand Canyon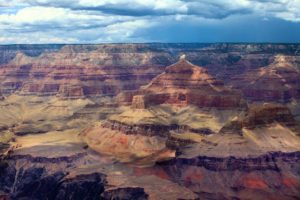 We explore the Southern rim of Grand Canyon, with beautiful views of the Colorado river. The day ends just outside of the Grand Canyon National Park.
Lodging: Red Feather Lodge – Tusayan, AZ
Distance : 175 miles
DAY 3 - Grand Canyon to Monument Valley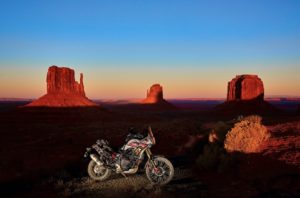 After a few lasts stops over the Grand Canyon, we take the iconic route heading straight to Monument Valley. There's an optional bus tour there, since motorcycles are not allowed in the park. Still, the sunset view from the entrance of the park is just magnificent. Prepare your camera!

Lodging: Monument Valley
Distance : 204 miles
DAY 4 - Monument Valley to Bullfrog Marina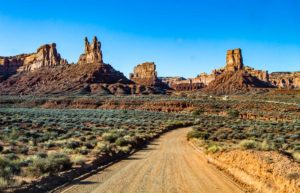 From Monument Valley, we ride through the spectacular Valley of the Gods. Then, the tracks heads to the incredible Moki Dugway Switchbacks, to Goosenecks of the San Juan River, before stopping at Bullfrog Marina.
Lodging: Bulfrog Marina
Distance : 162 miles
DAY 5 - BullFrog Marina to Kanab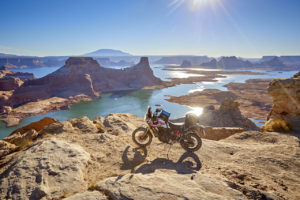 The route starts with  pavement near Bullfrog Marina. Then it's part paved and part dirt through the the fun Switchbacks of Burr Trail. We then go through the spectacular "Capitol Reef National Park" via the famous Scenic Hwy12 from Boulder to Tropic. End of the day is a mix of pavement and dirt to reach Kanab.
Lodging: Best Western – Red Hills, UT
Distance : 193 miles
DAY 6 - Kanab to Bar 10 Ranch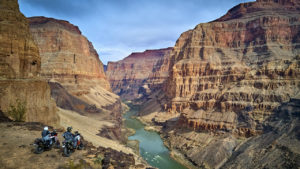 We will stay mostly on dirt roads with detours to admire the view of the North Rim of Grand Canyon (Toroweap Point and Grand Canyon View). We stop for the night at Bar 10 Ranch, a remote resort just a few miles from the Colorado river.
Lodging: Bar 10 Ranch
Distance : 120 miles
DAY 7 - Back to Las Vegas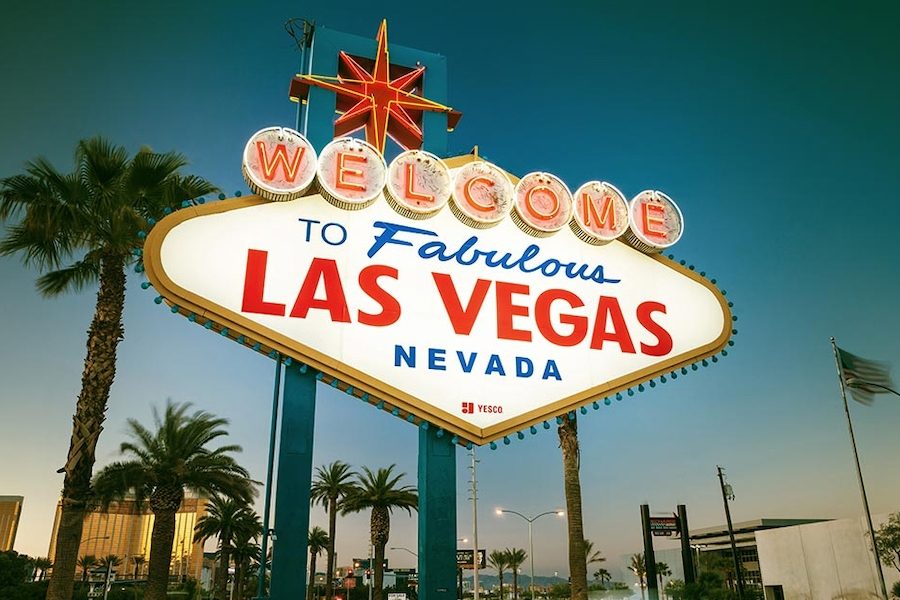 For the last day, we ride on the shore of Lake Mead.  The ride ends in Las Vegas and you'll get a friendly dinner with all of your fellow riders. That's when you'll get your Finisher T-Shirt!
Lodging: Las Vegas, NV
Distance : 213 miles
IT'S A SELF-GUIDED TRIP… YOU'RE ON YOUR OWN WITH OUR LOGISTIC TO HELP YOU
We provide all the tools:
⊕ Fully fitted Tenere 700 with bags and GPS
⊕ Pickup truck to carry your luggage so you can ride light
⊕ Support riders who know the trails, carry tools and have satellite communication.
However, you're in charge of your adventure and you will be responsible for managing your effort and riding at a safe pace.
Dirt or pavement ? Everyday, a morning briefing will let you know all about the day's ride, after which you can decide between riding on the dirt or opting for the pavement option. Again, you're on your own, and you take the decisions. 
Riding in group: Riding solo is dangerous so we encourage you to ride in group. Nonetheless, everybody should ride at its own pace and have time to  stop to take pictures…
Sharing memories: After reaching the hotel at the end of the afternoon, the riders will have dinner in a restaurant and plenty of time to share their adventures of the day!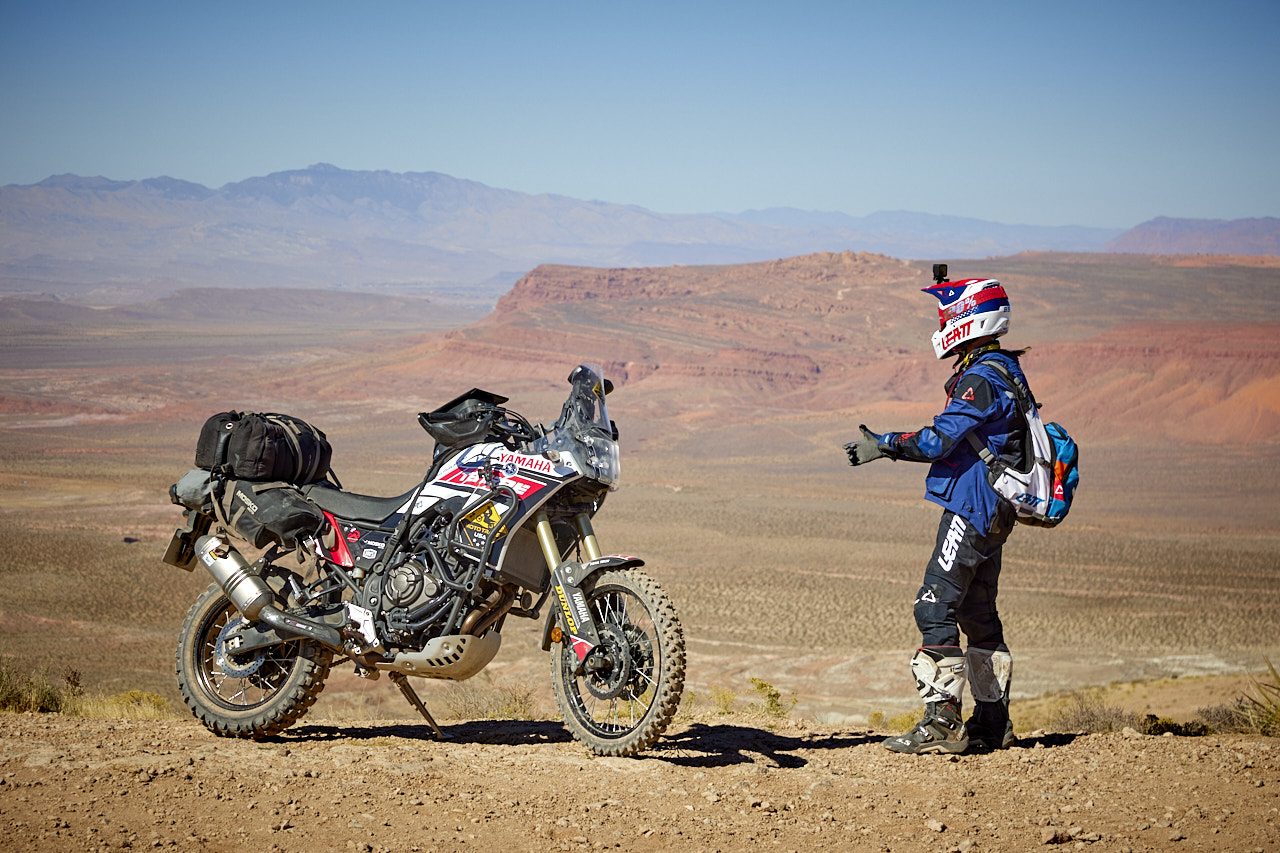 This tour provides unique photo opportunities. You can stop anywhere you want and ride at your own pace!
Our support riders can wait for you, so you can enjoy the beautiful scenery with peace of mind…
Gallery Red Rocks Tenere 700